Profile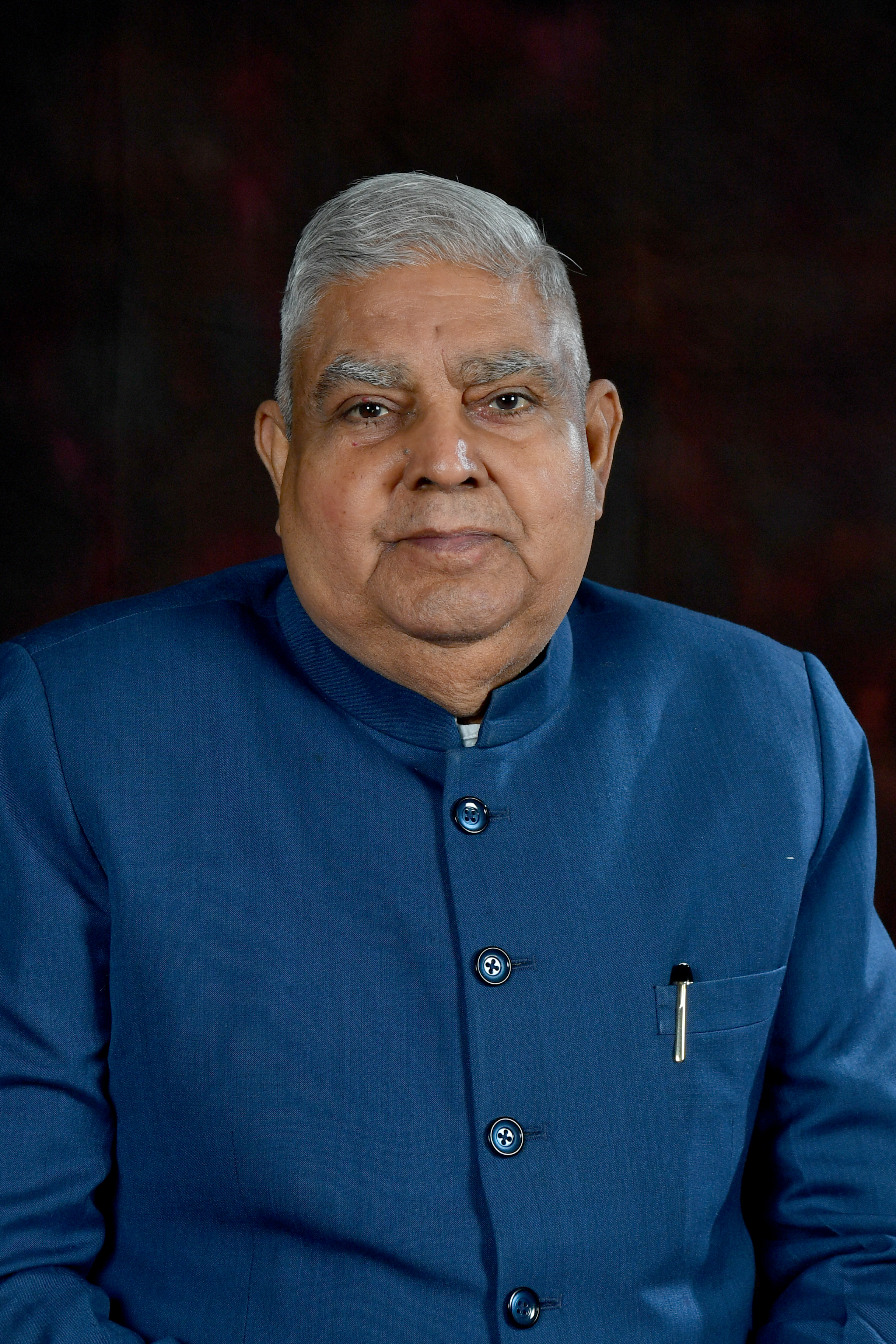 Click here to download high resolution photo
Profile
Name:
Shri Jagdeep Dhankhar
Father's Name
Late Shri Gokal Chand
Mother's Name
Late Srimati Kesari Devi
Date of Birth
18 May, 1951
Place of Birth
Village Kithana, Jhunjhunu District, Rajasthan
Marital Status
Married (Year, 1979)
Spouse's Name
Dr. Sudesh Dhankhar
Children
One daughter (Smt. Kamna)
School Education
Had his early education from Class 1 to 5 in village Kithana, at the Government Primary School
In Class 6 he took admission in the Government Middle School, Ghardhana, at a distance of 4-5 kms and travelled on foot along with other village students to the school.
In 1962, after successfully passing the Chittorgarh, Sainik School, Entrance Examination got admitted to Class 5 in the School on Full Merit Scholarship.
Passed from Chittorgarh, Sainik School, after taking the Indian School Certificate Examination recognized by the Cambridge University.
College education
Graduated in B.Sc. (Honors) Physics from Maharaja's College, Jaipur, affiliated to the University of Rajasthan.
Professional education
1978-1979 LLB from the University of Rajasthan.
Profession
Was enrolled with the Bar Council of Rajasthan as an Advocate with effect from 10.11.1979.

Designated as Senior Advocate by the High Court of Judicature for Rajasthan with effect from 27.3.1990, Since 1990 Shri Jagdeep Dhankhar had been practicing primarily in the Supreme Court and his focus area of litigation have been in the field of Steel, Coal, Mining and International Commercial Arbitration, amongst others. He has appeared in various High Courts in the country and was the senior-most designated Senior Advocate of the State till assuming the Office of the Governor on 30 July, 2019.
Permanent Address
Village & P.O. Kithana, District Jhunjhunu, Rajasthan.
Present Address
Vice-President's House,
6, Maulana Azad Road,
New Delhi - 110 011
Telephone - 011-23016422, 23016344
E-mail: vpindia[at]nic[dot]in
Office bearer of the Association :
Elected Member of the Rajasthan Bar Council in the year 1988.
Legislature:
Elected to the 9th Lok Sabha from Jhunjhunu Parliamentary Constituency in the year 1989.
Union Minister of State for Parliamentary Affairs in 1990.
Elected to the Rajasthan Legislative Assembly from Kishangarh Constituency in Ajmer district in the year 1993-1998.
Member of important Committees in the Lok Sabha and the Rajasthan Legislative Assembly, As Union Minister was member of a delegation as Deputy Leader of a Parliamentary Group to the European Parliament.
Served as Governor of West Bengal from 30 July 2019 to 18 July 2022.
Associations and other interests:
Life Member, Indian Law Institute, New Delhi.
Member, Indian Council of Arbitration.
Member, ICC Commission of Arbitration.
Member, ICC Court of Arbitration.
Cooperative movement, agriculture and fine arts.
An avid reader of books.
A sports aficionado, he has been the President of the Rajasthan
Olympic Association, and Rajasthan Tennis Association
The Vice President as Chancellor / Visitor of Universities :
Chancellor (Ex-Officio) - Delhi University
Chancellor (Ex-Officio) - Panjab University
Visitor (Ex-Officio) - Makhanlal Chaturvedi Rashtriya Patrakarita Vishwavidhyalaya, Bhopal (Established by an Act of the Government of Madhya Pradesh In 1990
The Vice President as President / Chairman of the Institutes / Committees :
President (Ex-Officio) of The Indian Institute of Public Administration (IIPA), Delhi
President (Ex-Officio) of The Indian Council of World Affairs (ICWA), Delhi
Chairman of the Selection Committee of Prasar Bharti Board (As Per Prasar Bharti Broadcasting Corporation Of India Act, 1990) for selection of the Members of the Board
Chairman of the Committee for selection of Chairman of The Press Council of India (As Per Section 5 (2) of The Press Council Act, 1978)
The Vice President as Chairman of Juries / Selection Committees for various Award :
Pravasi Bharatiya Samman Awards (Jury Constituted by Ministry of Overseas Indian Affairs)
International Gandhi Award for Leprosy (Jury Constituted by Gandhi Memorial Leprosy Foundation- Wardha Under Ministry of Health and Family Welfare)
National Communal Harmony Award (Jury Constituted by Ministry of Home Affairs)
Dr. Ambedkar International Award for Social Change (Jury Constituted by Ministry of Social Justice & Empowerment)
Jawaharlal Nehru Award for International Understanding (Jury Constituted by Ministry of External Affairs)
Publications :
Has contributed extensively articles on legal issues in newspapers and periodicals.
Family:
Married to Dr. Sudesh Dhankhar, a Post Graduate in Economics from Banasthali Vidyapeeth, a prestigious University in rural environs, in the year 1979. She is the daughter of Shri Hoshiyar Singh and Smt. Bhagwati. Dr. Sudesh Dhankhar has keen interest in social work and organic farming, child education and upliftment.
Their daughter, Smt. Kamna is married to Kartikeya Vajpayee.
Tours and travels :
Both Shri Jagdeep Dhankhar and Dr. Sudesh Dhankhar have travelled extensively to many countries, including the US, Canada, UK, Italy, Switzerland, Germany, Australia, New Zealand, China, Hong Kong, Singapore, etc.