Sh. Krishan Kant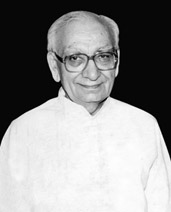 | | |
| --- | --- |
| Name: | Sh. Krishan Kant |
| Father's Name | Lala Achint Ram |
| Date of Birth | February 28, 1927 |
| Marital Status | Married |
| Spouse's Name | Shrimati Suman Krishan Kant |
| Educational Qualifications | M.Sc. (Technology) from the Banaras Hindu University, he worked as a Scientist with the Council of Scientific and Industrial Research, New Delhi. |
Position Held :
Secretary of :
The Indian Parliamentary and Scientific Committee, of which Pandit Jawaharlal Nehru was the President and Shri Lal Bahadur Shastri was the Chairman. (He was the Editor of the Quarterly Journal "Science in Parliament".)
Chairman of
Committee on Railway Reservations and Bookings, 1972 -1976.
Jury of the Jawaharlal Nehru Award for International Understanding,
International Jury for the Indira Gandhi Prize for Peace, Disarmament and Development,
The Advisory Committee for the Rajiv Gandhi Sadbhavana Award,
The Jury for International Gandhi Award for Leprosy,
The Jury for Indira Gandhi Paryavaran Puraskar,
The Jury for Dr. B.R. Ambedkar Award for Social Understanding and Upliftment of Weaker Sections,
The Jury for Dr. Ambedkar International Award for Social Change.
Governor of:
Andhra Pradesh,7.2.1990- 21.8.1997
Tamil Naidu, 22.12.1996- 25.1.1997(Additional Charge)
Chancellor of :
Delhi University,
Panjab University,
Pondicherry University,
Assam University,
North-Eastern Hill University and
Gandhigram Rural Institute (Deemed University);
Founder General Secretary of :
The People's Union for Civil Liberties and Democratic Rights in 1976.
He held prominent offices in the Parliamentary and Organisational wings of Congress Party and later the Janata Party and the Janata Dal.
He was a member of the Executive Council, for several years, of the Institute for Defence Studies and Analyses.
Member of:
Vice-President of India and ex-officio Chairman, Rajya Sabha from 21.8.1997 to 27.7.2002.